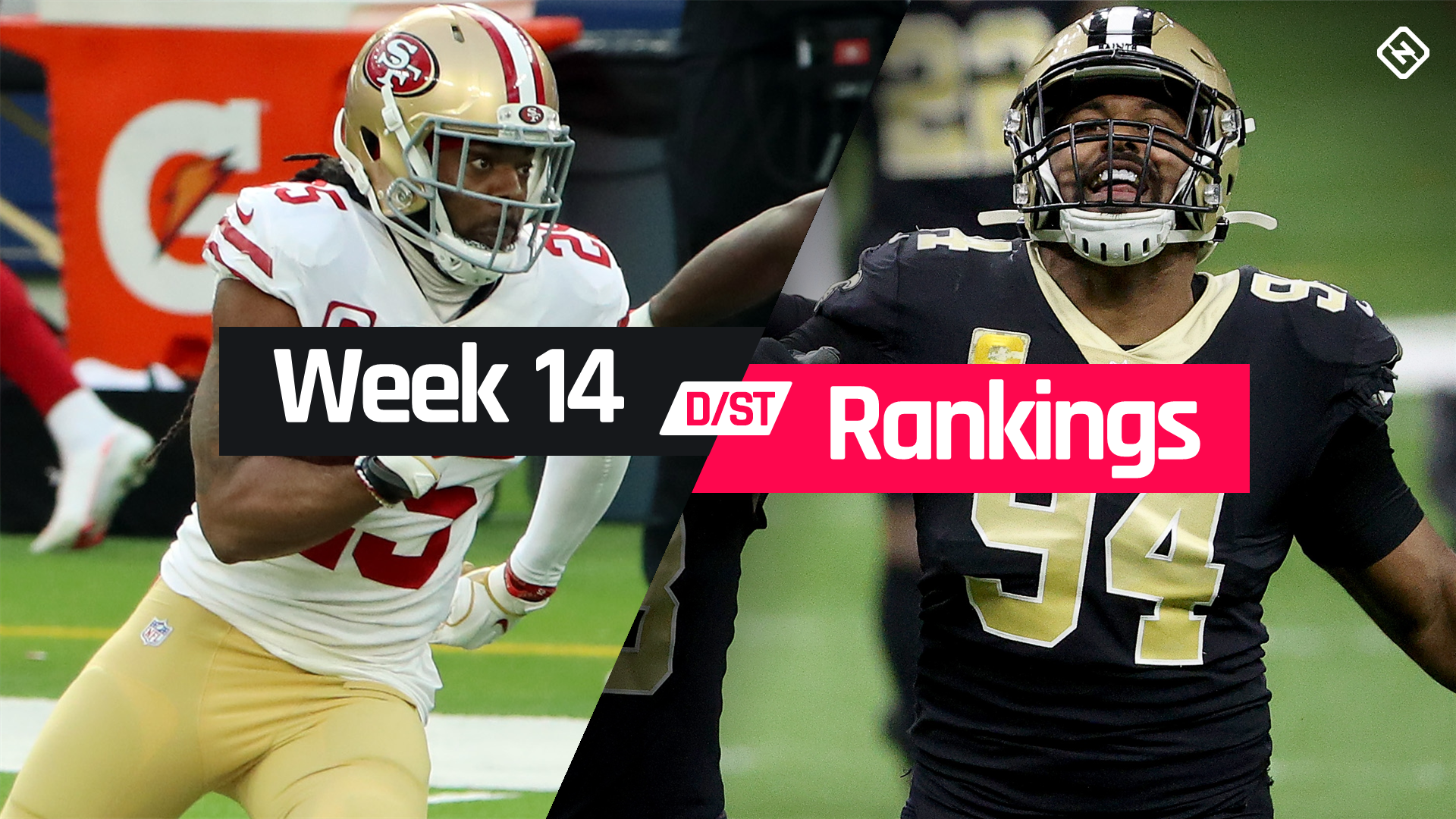 Rank
Team
1
Seattle Seahawks vs. Jets. Despite losing to the Giants, the Seahawks defense played well. They sacked Colt McCoy twice, forced him into an interception, and generated a blocked punt safety that was nearly a defensive TD. Seattle gets to take on the Jets in Week 14, a team that had allowed a league-high 10.3 fantasy points per game (FPPG) to defenses before their near-win over the Raiders. The Seahawks should be able to take advantage of that and tee off on Sam Darnold as they look to bounce back from a bad loss.
2
New Orleans Saints @ Eagles. While some may be disappointed that the Saints won't get to face Carson Wentz, who has thrown a league-high 15 interceptions and has been sacked an incredible 50 times, they still should be in good shape. Wentz was benched in favor of Jalen Hurts, a second-round rookie set to make his first career start. The Saints have an elite defense that has allowed the fewest yards per game (288.8) and the fourth-fewest points per game (20.1) on the season, so Hurts may have trouble moving the ball downfield in this tough matchup.
3
Los Angeles Rams vs. Patriots. The Patriots' 45-point outburst against the Chargers shouldn't scare off anyone from playing the Rams defense in Week 14. The Patriots have had issues on offense all year, and Cam Newton had just 69 passing yards and a TD on 19 passes. The Rams' secondary should be able to make life even more difficult on Newton, and if they can take away the Patriots' run game with their third-ranked rushing defense, they will force Newton to make plays. If that happens, there should be plenty of opportunities for the Rams to force turnovers and pressure Newton.
4
Tampa Bay Buccaneers vs. Vikings. This matchup will be an interesting strength-on-strength matchup, as the Buccaneers have the NFL's top run defense while the Vikings have one of the NFL's best running backs. If the Buccaneers can slow down Dalvin Cook, they will force Kirk Cousins to throw more, and he is prone to multi-interception games (three on the year). The Vikings have allowed three defensive TDs in their past two games, and the Bucs could get in on that, as they have forced 20 turnovers, tied for third most in the league, while the Vikings have committed 21, tied for fourth most in the league.
5
Washington Football Team @ 49ers. Ahead of their Monday afternoon game against the Steelers, Washington ranked second in the league in sacks per game with a mark of 3.3. They also have a top-five defense in terms of yardage allowed and the second-best pass defense in the NFL. The 49ers are getting healthier, but Nick Mullens could struggle to move the ball on this defense.
6
Arizona Cardinals @ Giants. The Giants managed to put 17 points up on the Seahawks defense, but it required a career day from Wayne Gallman to make that happen. The team still threw an interception, allowed Colt McCoy to be sacked twice, and allowed a blocked punt safety on the day. The Cardinals defense has been middle-of-the-pack this season, but they should be able to slow down the Giants offense even with QB Daniel Jones (hamstring) returning. Jones has a turnover in eight of 11 starts this year, so the Cardinals could take advantage of that too.
7
Carolina Panthers vs. Broncos. Speaking of multi-turnover games, Drew Lock has thrown at least two picks in four of his past seven starts and has a ridiculously high 4.4-percent interception rate on the year. Lock likes to take risks and the Panthers, now healthier and well rested coming off a bye, should have a chance to continue his turnover streak. Lock has thrown at least one pick in seven straight games, and the Broncos are one of three teams allowing 10-plus FPPG to defenses this year. The Panthers have a high floor because of this, so they can be started as a top streamer.
8
San Francisco 49ers vs. Washington. Washington ranks in the bottom quartile of yards per game (325.3) and points per game (21.9). They also have turned the ball over 18 times on the year, tied for the 10th most in the NFL, ahead of their Monday night game against the Steelers. The 49ers are starting to get healthier and just limited a dynamic Rams offense to 20 points. With Richard Sherman back in the fold, they should have a chance to limit Terry McLaurin and make life very difficult for Alex Smith.
9
Baltimore Ravens @ Browns. The recent performance of the Browns against the Titans may scare some away from the Ravens, but it's worth noting that they did stall out a bit in the second half. Meanwhile, the Ravens were able to limit the Steelers to 19 points in Week 12 despite being without numerous key contributors on the defensive line. They're getting healthier and are allowing the third-fewest points on a league-wide basis (19.5) and held the Browns to just six points in their season opener. Feel free to trust them, per usual.
10
Green Bay Packers @ Lions. In back-to-back games, the Packers D/ST has posted at least 12 fantasy points while generating 10 total sacks, three interceptions, and a fumble recovery TD. While the Packers are hot, the Lions just put up 34 points against the Bears and did so without Kenny Golladay (hip) and D'Andre Swift (illness), two of their top offensive weapons. Swift's return could allow the Lions to take advantage of the Packers' porous run defense, but the Packers should still get some pressure on Matthew Stafford, who has been sacked 11 times in his past three games. That will raise their floor even though this matchup could be a high-scoring one.
11
Indianapolis Colts @ Raiders. The Colts aren't quite as strong as they were at the start of the season, but they're still a top-10 unit in terms of yards and points allowed. They also are tied for seventh in the NFL in takeaways with 19. If Indy can continue to perform at a solid clip, they will do enough to be a solid start, especially since the Raiders have turned the ball over eight times in their past three games.
12
Pittsburgh Steelers @ Bills. Pittsburgh leads the league in sacks per game (3.7), points per game allowed (17.1), total takeaways (23), and ranks third in yards allowed (298.9). However, the Bills are a top-10 offense, and Josh Allen has led the team to five games with 30-plus points. The Steelers can still be started, but they have a low floor, as Allen may be able to do some damage against them with his legs.
13
Kansas City Chiefs @ Dolphins. Tua Tagovailoa just played one of the best game of his career against the Bengals, but the Chiefs are a more difficult defense for him to square off against. It's also worth noting that while Tagovailoa has only one turnover so far on the year, he has been sacked nine times in his past four games. Plus, the Chiefs have allowed 20 or fewer points in eight of their 12 games this season, so they should have a chance to limit a Dolphins offense that is averaging only 319.8 yards per game, which rankings fifth worst in the NFL.
14
New England Patriots @ Rams. The Patriots just put together a shutout that saw them post two special teams TDs and force Justin Herbert into two interceptions. They aren't likely to have that same type of success against a Rams offense that has generated the third-most yardage in the NFL (395.3), but the Rams have turned the ball over 20 times this year, so the Patriots have a chance to be a decent play on a short week.
15
Cincinnati Bengals vs. Cowboys. The Bengals just held the Dolphins to 19 points by stopping them repeatedly in the red zone. They should have a chance to do that against the Cowboys, as well, and the Cowboys have turned the ball over 23 times so far this season, good for the second most in the NFL. If the Bengals take advantage, they could be a top-10 play, but they're a bit of a boom-or-bust option compared to the other stronger options.
16
New York Giants vs. Cardinals. After their performance against Russell Wilson and the Seahawks (five sacks, two turnovers, 12 total points allowed), the Giants are on the rise. They have 20 takeaways on the season, tied for the fourth most in the NFL, and they have played very well during the team's winning streak. The Cardinals have a top-10 offense though, so trusting them to contain Kyler Murray is a risk even after what they did to Seattle.
17
Tennessee Titans @ Jaguars. Mike Glennon is an up-and-down quarterback and his performance the last two games demonstrates that. The Jaguars did turn it over four times against the Vikings, but in the previous game, they avoided turnovers and sacks entirely against the Browns. Given that Tennessee just allowed Cleveland to score 41 points and that their defense has been bottom 10 in yardage and scoring this year, it's hard to bank on them in a matchup against a streaky team.
18
Houston Texans @ Bears
19
Buffalo Bills vs. Steelers
20
Chicago Bears vs. Texans. The Bears just allowed 34 points to the Lions, and Deshaun Watson has the Texans offense playing very well right now. It's not a great spot to trust the Bears in.
21
Dallas Cowboys @ Bengals
22
Cleveland Browns vs. Ravens
23
Miami Dolphins vs. Chiefs. The Dolphins are usually a good start, but the Chiefs are the only NFL team averaging over 400 yards per game and are second in scoring at 30.8 points per game. Maybe the Dolphins can slow down Patrick Mahomes, but don't bet on that happening with your season on the line.
24
Atlanta Falcons @ Chargers. The Chargers were just shut out by the Patriots, but the Falcons are a much easier matchup for them. Expect a bounce-back performance.
25
Denver Broncos @ Panthers
26
Philadelphia Eagles vs. Saints
27
Los Angeles Chargers vs. Falcons
28
Minnesota Vikings @ Buccaneers
29
Las Vegas Raiders vs. Colts
30
Detroit Lions vs. Packers
31
Jacksonville Jaguars vs. Titans
32
New York Jets @ Seahawks