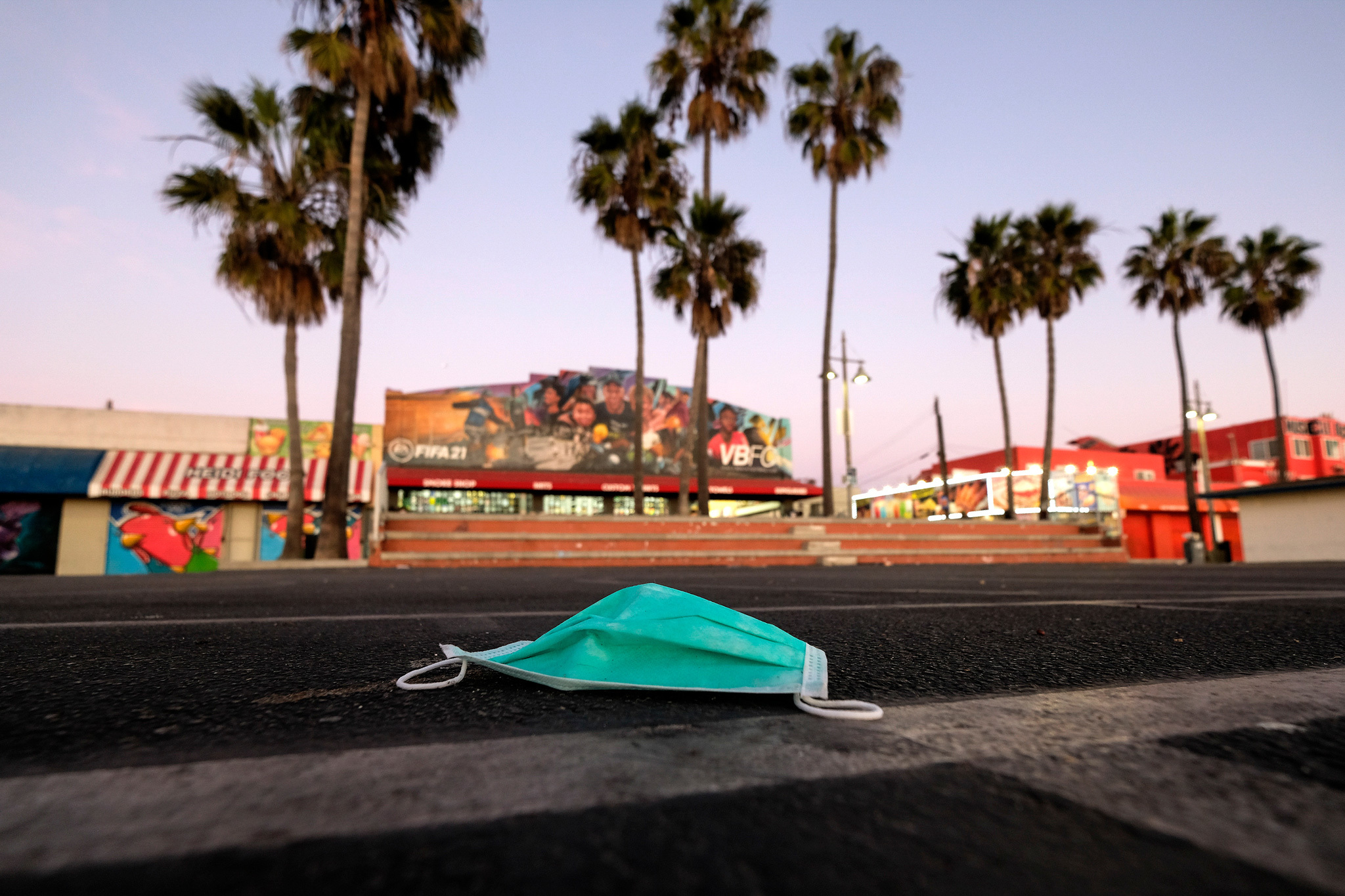 Maybe it's been a while since you've worn a face mask. Maybe you never gave one up at all. In either case, it's looking increasingly likely you'll be required to wear one indoors again very soon.
On Thursday, Los Angeles County entered the CDC's "high" community level for Covid-19. If the county remains within that range for two consecutive weeks (which would be on July 28 and is looking increasingly likely), then we'll see a mask mandate return for all public indoor settings on July 29.
The mandate's return isn't quite official yet, but L.A. County public health director Dr. Barbara Ferrer said it's "much more likely" that we'll stay within the "high" level for two weeks than return back to "medium" within that time. That's because L.A.'s placement is based on a rise in hospitalizations (currently 10.5 per 100,000 people), which tend to lag increases in cases by about two weeks. Since cases are still increasing, "it's hard to imagine that two weeks from now the hospital admission data metric will drop" below 10 per 100,000 people (the "high" threshold), Ferrer explains.
So why not just reimplement the mandate now? Public health wants to make sure that businesses have time to understand the changes. Under the current rules, masks are only required indoors in healthcare settings and on public transit (plus a few other edge cases). Come July 29 (most likely), they'll again be required in indoor restaurants, bars, offices and shops—basically any public indoor setting. They won't be required outdoors, nor will you need to wear one if you're under two years old or while you're actively eating or drinking.
Public health recommends that Angelenos use a well-fitted N95, KN95 or KF94 respirator for maximum effectiveness. That's followed by a double mask (a medical mask with a cloth one over it), a fitted medical mask, and a cloth or non-fitted medical mask, in order of effectiveness.
L.A.'s rise in hospitalizations comes as highly-transmissible Omicron subvariants BA.4 and BA.5 quickly spread through the county. As of the end of June, nearly half of all reported Covid-19 cases were BA.5, and that share is likely even greater now (as is the number of overall cases, which are surely undercounted due to the prevalence of home testing).
Looking ahead, per some previously laid out guidelines L.A.'s mask mandate will expire after it meets the "medium" level thresholds for two straight weeks. But if public health sees a steady decrease, it's possible the mandate could be dropped sooner.