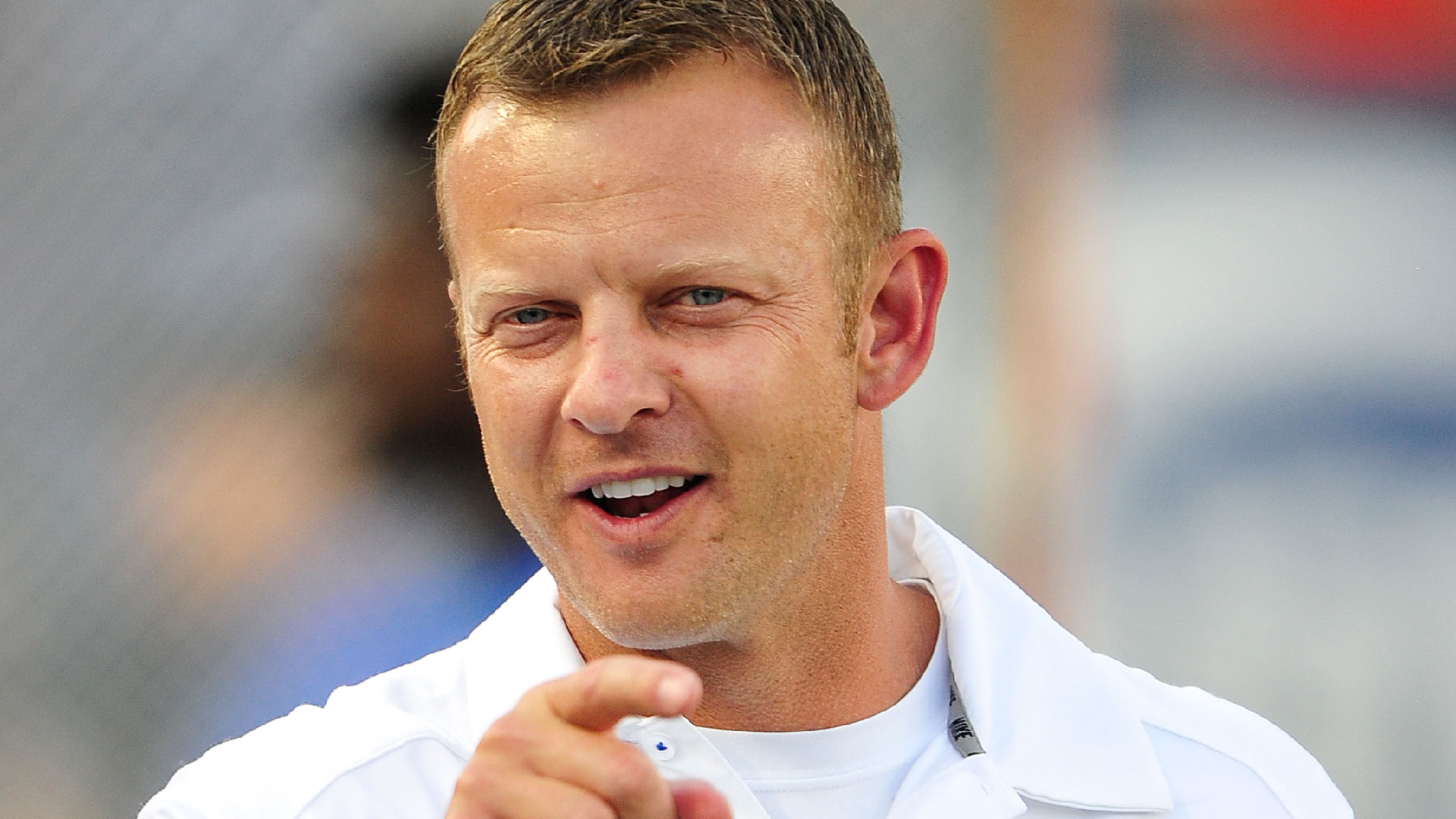 The FBS coaching carousel is starting to turn, even in a season affected by the COVID-19 pandemic.
There have been more than 20 head-coaching changes in FBS every season since 2015. That number might decrease in 2020 — but there have been 11 changes so far.
MORE: Texas close under Herman, but how much longer will that be respectable?
Auburn hired Boise State coach Bryan Harsin on Tuesday in the latest switch. Sporting News will monitor the coaches who resign, retire or are fired heading into next season.
Jay Hopson, Southern Miss

Resigned (Sept. 7): Hopson resigned after a season-opening loss to South Alabama. Scotty Walden was the interim coach for four games, and now Tim Billings is the coach for the remainder of the season. Hopson had a 28-23 record through five seasons with the Golden Eagles.

Hired (Dec. 2): The Golden Eagles hired Will Hall, 40, who served as Tulane's offensive coordinator the last two seasons. Hall was 56-20 over six combined seasons with West Alabama and West Georgia in the Gulf South Conference.

Gary Andersen, Utah State

Fired (Nov. 7): Utah State parted ways with Andersen after opening the 2020 season with three consecutive losses. It was Andersen's second stint with the Aggies. He had a 7-23 record at Oregon State from 2015-17 after a 19-7 mark at Wisconsin from 2013-14.

Hired (Dec. 10): The Aggies hired Blake Anderson, who spent the last seven season at Arkansas State, as their next head coach. Anderson, 51, had a 51-37 record with the Red Wolves.

Will Muschamp, South Carolina

Fired (Nov. 16): South Carolina fired Muschamp after the Gamecocks allowed 48 points or more in three consecutive losses. South Carolina had a 28-30 record under Muschamp, but that included a 17-22 record in SEC play. The former Florida coach could not get the Gamecocks past the nine-win mark in five seasons.

Hired (Dec. 5): Oklahoma assistant Shane Beamer will take over for Muschamp, according to multiple reports. Beamer, the son of former Virginia Tech coach Frank Beamer, served as an assistant under Steve Spurrier at South Carolina from 2007-10. He also was the Gamecocks' recruiting coordinator for part of his tenure in Columbia. He later worked at Virginia Tech and Georgia before moving to Oklahoma. At Oklahoma, he was assistant head coach for offense, tight ends and H-backs under Lincoln Riley.

Fired (Nov. 29): Mason was fired one day after a 41-0 loss to Missouri. Offensive coordinator Todd Fitch will serve as the interim coach. The Commodores were 0-8 in Mason's seventh season. Vanderbilt has one just one win in SEC play the last two seasons. Mason finished with a 27-55 record.

Hired (Dec. 14): Vanderbilt announced Clark Lea as its next head coach. Lea, 38, played fullback at Vanderbilt before starting his coaching career. He rose to prominence the last three seasons as Notre Dame's defensive coordinator. The Irish have ranked in the top 15 in scoring defense each of the last three seasons.

Steve Campbell, South Alabama

Fired (Dec. 6): South Alabama parted ways with Steve Campbell after three seasons. Campbell, who had a successful stint at Central Arkansas before taking the job, had a 9-26 record in three seasons.

Hired (Dec. 12): The Jaguars hired Indiana defensive coordinator Kane Womack. The 33 year old was South Alabama's defensive coordinator from 2016-17. Womack is now the youngest head coach in the FBS.

Fired (Dec. 7): Louisiana-Monroe fired Matt Viator after five seasons. The Warhawks slipped to 0-10 in 2020. UL-Monroe allowed 30 points or more in every game. Viator led the Warhawks to a 6-6 record in 2018, but the team could never pass the .500 mark.

Blake Anderson, Arkansas State

Resigned (Dec. 10): Anderson resigned from Arkansas State and accepted the head coaching job at Utah State. Anderson had a 51-37 record with the Red Wolves the last seven seasons, and he led Arkansas State to six bowl appearances and two Sun Belt championships.

Hired (Dec. 12): Arkansas State hired Alabama assistant coach Butch Jones as its next head coach. Jones' last head coaching stop was at Tennessee, where he had a 34-27 record over five seasons. Jones also had head coaching stints at Central Michigan and Cincinnati. He has an overall record of 84-54.

Fired (Dec. 12): Sumlin was dismissed a day after a 70-7 Wildcats loss to Arizona State in the Territorial Cup rivalry game. The loss dropped Arizona to 0-5 in 2020 and 9-15 overall in three seasons under Sumlin.

Hired (Dec. 12): Defensive coordinator Paul Rhoads was named interim coach. Rhoads was Iowa State's head coach from 2009-15.

Fired (Dec. 13): Illinois on Sunday announced it had fired Smith following five seasons in Champaign; he will not coach the team's final game on Dec. 19. He compiled a 17-39 overall record (10-33 Big Ten record), including a 2-5 mark in 2020. His best season came in 2019, when the Illini went 6-7 following a 35-20 loss to Cal in the Redbox Bowl — the team's only bowl berth under Smith.

Hired (Dec. 19): Illinois on Saturday announced the hiring of former Wisconsin and Arkansas head coach Bret Bielema, who comes to Champaign after an assistant coaching stint with the Giants. Bielema has a 12-year head coach record of 97-58 (.626). That includes a seven-year record of 68-24 at Wisconsin, where he led the Badgers to a share of the Big Ten championship in 2010 and two outright titles in 2011 and '12.

Fired (Dec. 13):Auburn parted ways with Malzahn after eight seasons. The Tigers finished 6-4 this season. Auburn was 14-12 the last three seasons in SEC play. Malzahn did lead the Tigers to the BCS championship game in 2013 and had a 3-5 record in the Iron Bowl.

Hired (Dec. 22): Auburn hired Boise State coach Bryan Harsin after a 10-day search. Harsin had a 69-19 record with the Broncos since 2014, and that included a 3-2 record in bowl games. The news was first reported by The Athletic. This is Harsin's first Power 5 job.

Bryan Harsin, Boise State

Resigned (Dec. 22): Harsin resigned at Boise State to become the next coach Auburn. Harsin replaced Chris Petersen in 2014 and led the Broncos to three Mountain West Conference championships. This is the first Power 5 job for the 44-year-old coach